GREENHOUSE
Altermatt Farms LLC has always strived to provide our customers with the best quality flower and greenhouse plants. Our helpful staff is always willing to assist customers find which plants will fit their situation perfectly. We take pride in knowing that when our customers leave our greenhouse, they will be satisfied with the beautiful plants that they have chosen.
In the spring we grow many different types of annuals, perennials and vegetable plants. We also carry a large selection of unique combination hanging baskets, as well as many pre-planted pots. Along with the many different plants that we grow, we have a wide variety of garden accessories and pottery.
What Is an Annual?
The term annual is applied to garden flowers that complete their life cycle in the span of one growing season. They come up in the spring, grow, flower, set seed and then die after the frosts in the fall. We grow hundreds of annuals which we've tested in our greenhouses and in our gardens and have found them to do very well in our area. Some of the more popular annuals that we carry are:
Ageratum
Lobelia
Begonia
Marigold
Celosia
Pansy
Coleus
Petunia
Dahlia
Portulaca
Dianthus
Salvia
Geranium
Snapdragons
Gerbera Daisy
Vinca Periwinkle
Impatiens

Violas
Along with these many annuals, you will be able to find hundreds of folaige, vining and flowering plants, which are wonderful to use in your container gardens. Many of these items are from the Proven Winners line.
click here to learn about the many wonderful Proven Winner plants
What is a perennial?
Perennial plants are non-woody plants which grow and live for more than a single year. Perennials usually produce one or more flower crop each year, depending on the variety. Each blooming period may last anywhere from a week to a month... or longer.
We carry a large selection of 4" perennials, as well as many popular gallon perennials. Along with the perennials that we grow, we also offer the Stepables line. Stepables are perennials that are ideal for planting in walkways or crevices.
Click here for the Stepables web site
Vegetable Plants
Everyone wants fresh vegetables in the summer. What better way to get them, than by growing them yourself. We realize that not everyone has a large area to plant, this is why we offer a large selection of plants in single pots as well as in flats. Our different varieties of vegetables are a perfect fit for any garden, big or small.
Below is a list of the many vegetables that we carry:
| | |
| --- | --- |
| Arugula | Lettuce |
| Beans | Melons |
| Broccoli | Onions |
| Brussel sprouts | Peas |
| Cabbage | Peppers |
| Cauliflower | Pickles |
| Celery | Pumpkins |
| Corn | Spinach |
| Cucumber | Squash |
| Eggplant | Tomatoes |
| Leek | |
We also carry a large line of herbs to make summer grilling that much more fun.
Combination hanging baskets and pre-planted pots.
We take alot of time and care to choose the best combinations of plants that will grow just right together. Our combinations are extremely unique and we only grow a certain number of each one. They will give any outdoor space a perfectly polished and refined look.
Here is just an example of our pre-planted pot section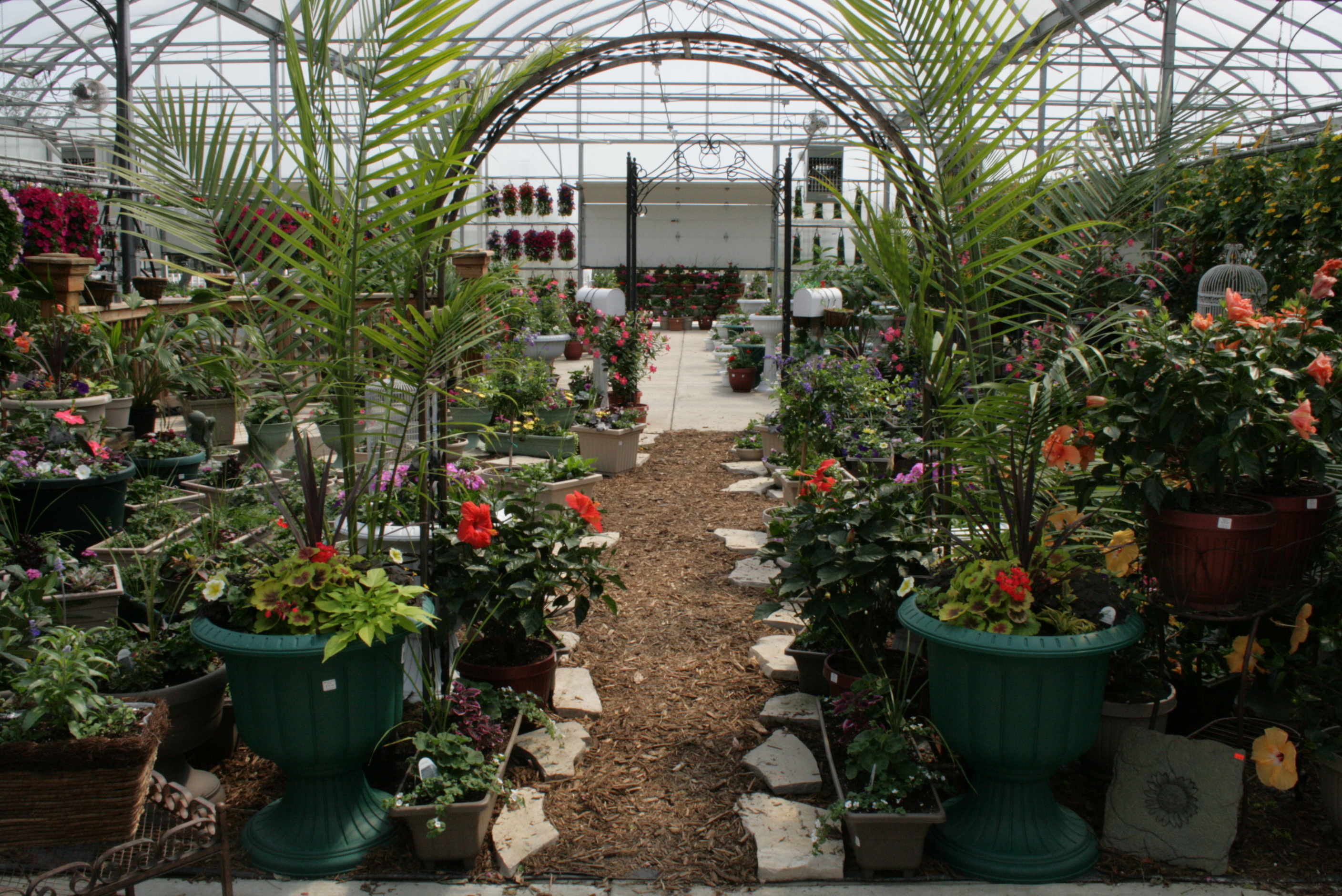 POTTERY AND GARDEN ACCESSORIES
We offer many basic pots and baskets for purchase, as well as many unique selections.
Everyone wants that special something that will set their garden apart from others. All you have to do is check out our large selection of unique mexican pottery and iron works and you'll be sure to find that special garden accessories to make your garden complete.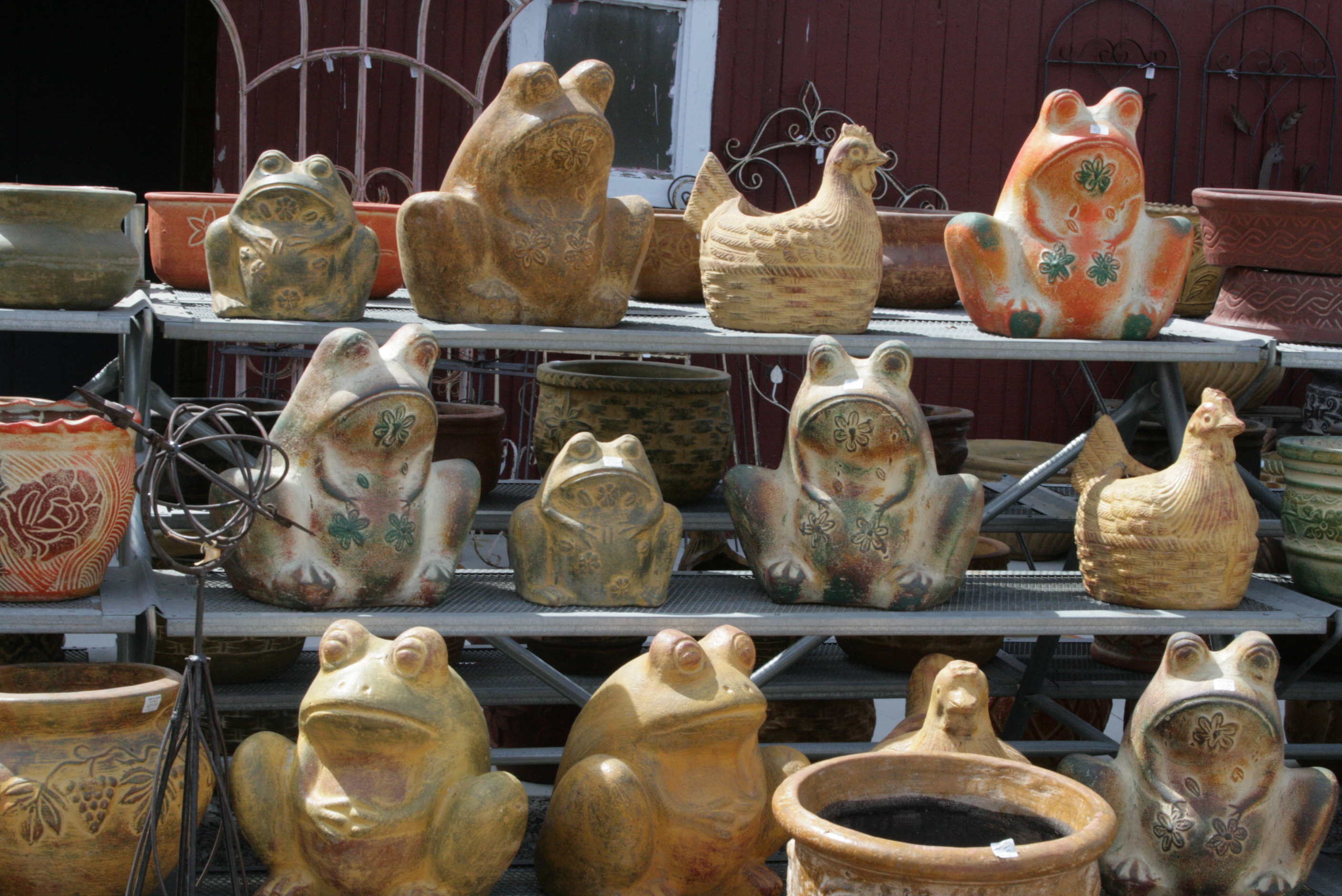 FALL
The fall season comes to life with the beautiful assortment of outdoor mums, which we grow. Our farm market also carries all of your fall decorating needs. We grow every size, shape and color of pumpkins, imaginable. We also carry straw, cornstalks, indian corn and a very large selection of unique gourds, both fresh and dried.